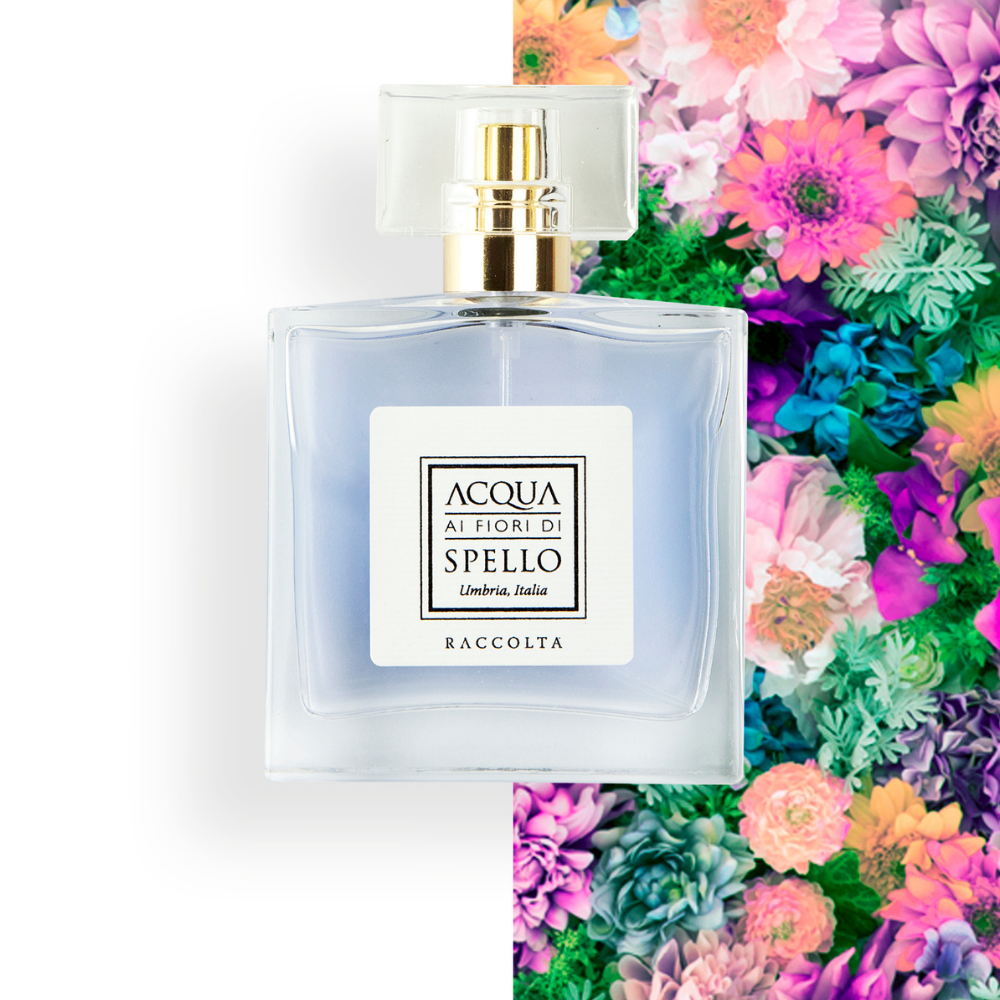 Acqua ai Fiori di Spello Acqua ai Fiori di Spello is a perfume for women and men.
The name can be translated from Italian as "Spello flower water". Spello is an Italian city in sunny Umbria, where flower carpets with drawings and ornaments are laid at the annual Feast of the Holy Body and Blood of Christ. Spello is a small town in the Umbria region. A region that many have come to know in person, many through movies or travel shows. Yes, it is a beautiful place with valleys and hills, where olive trees grow, noble cypresses stand. Productive land! The range of colors in this valley is very bright. But the main role is still played by green! The aroma of flowers vibrates all over the beautiful city of Spello, bringing a sense of celebration and fun through it. ⠀
In Italian it means "collection". It is Umbria's most beautiful flower gathering and preparation for the festival, when the inhabitants literally swim in their scent, waiting and planning a holiday. Enjoy a bouquet of bergamot, lavender, rose, geranium, ambergris, vanilla and musk!
Pyramid:
Top notes: bergamot, lavender.
Heart notes: rose, geranium.
Base notes: amber, vanilla, white musk. ⠀
In Italian it means "laying petals in ornaments, drawings for holidays". Feel the fresh aroma of these orange and lemon petals that vibrate above the spicy base of olive trees, oaks and spices! Enjoy the spirit of the Italian holiday with delicious food, sparkling wine and fun songs!
Pyramid:
Top notes: bergamot, aromatic citrus.
Heart notes: orange blossom, cardamom, olive, oak.
Base notes: spices.
Fioritura In Italian it means "flowering", "flowering time". The blooming Umbria Valley could be reminiscent of an early morning in the countryside, where the view stops at each delicate flower. Flowers that are not usually given, but they so beautifully adorn the surroundings and life. Poppies, chamomile, cornflowers, jasmine bush and even water lily. Imagine what it smells like together? This is the bouquet for this bottle! And at the bottom is a noble cedar and benevolence to emphasize this fresh and powerful life force.
Pyramid:
Top notes: cornflower, artemisis, pepper.
Heart notes: poppy, water lily, jasmine, irbulene.
Base notes: cedar, benevolence, white musk.