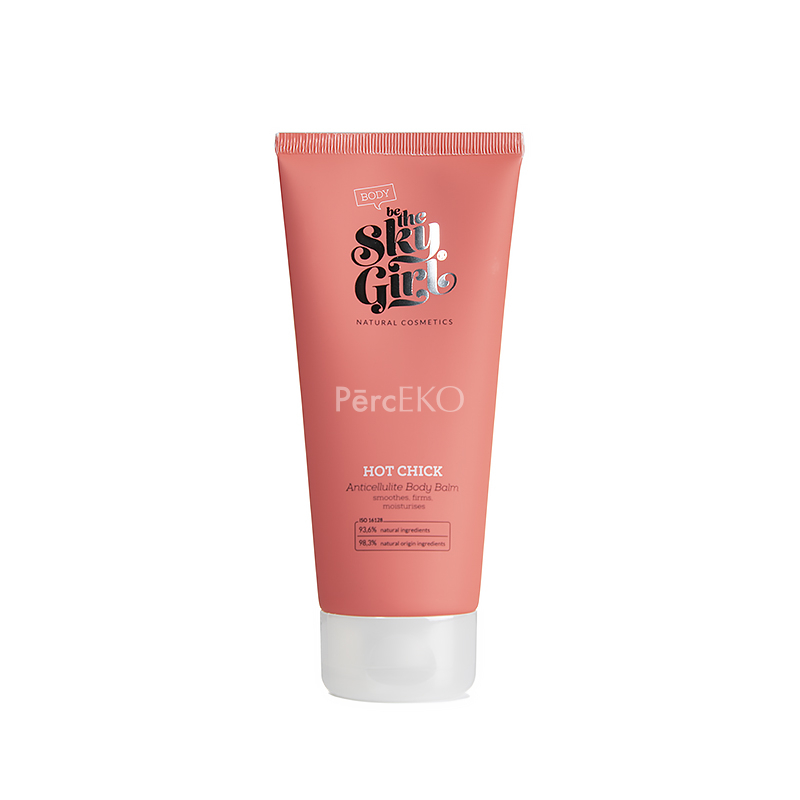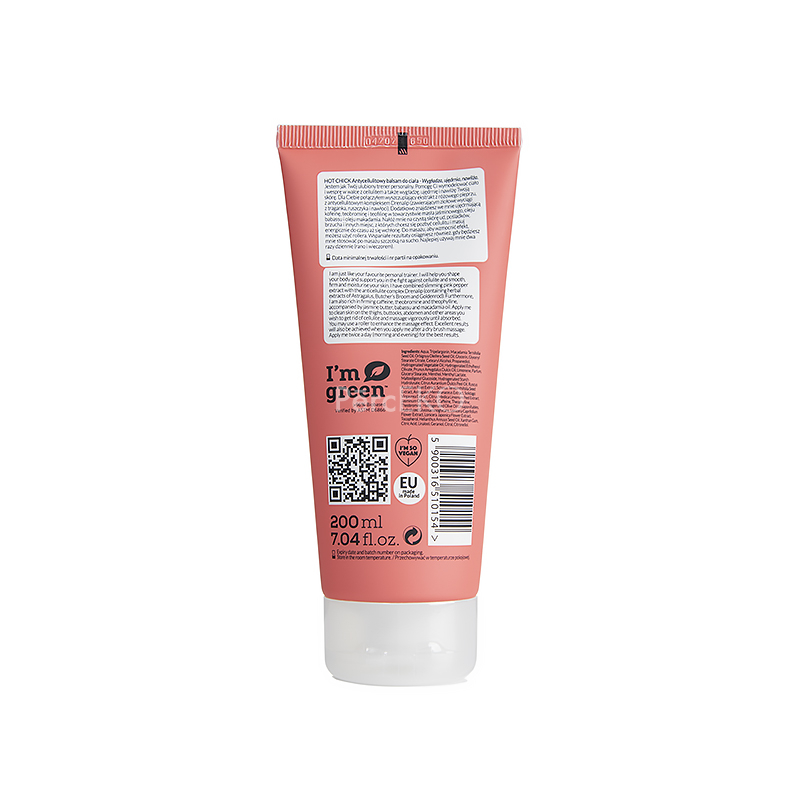 Anticellulite balm Hot Chick BeTheSkyGirl
I am like your favorite personal trainer! I will help you model your body, support you in the fight against cellulite, as well as smooth, firm and moisturize your skin. For you, I have combined a slimming pink pepper extract with the anti-cellulite Drenalip complex (containing herbal extracts of astragalus, butcher and goldenrod). Additionally, you will find firming caffeine, theobromine and theophylline in me, accompanied by jasmine butter, babassu oil and macadamia oil.
Use me every day – twice a day – after a shower, massaging your thighs, buttocks, abdomen and other places where you want to get rid of cellulite. To enhance the anti-cellulite effect, first brush your body dry with a brush.
Active ingredients:
Pink pepper extract (Schinus Terebinthifolia Seed Extract) – shows a strong slimming effect and significantly reduces body fat; inhibits the growth of fat cells and prevents them from turning into "orange peel"; improves blood microcirculation;
Butcher's broom (Ruscus Aculeatus Root Extract) – strengthens and seals blood vessels and improves blood and lymph circulation, thus preventing swelling and water retention; has a firming and anti-cellulite effect;
Astragalus Extract (Astragalus Membranaceus Extract) – adaptogen, comes from northeastern China, Siberia and central Mongolia; it is one of the oldest and most important plants in traditional Chinese medicine; for ages used to increase overall vitality, it is also an activator of fat burning; has a toning, rejuvenating and strong antioxidant effect;
Goldenrod extract (Solidago Virgaurea Extract) – strengthens and seals blood vessels, increases their resistance, reduces swelling, soothes irritations;
The mixture of caffeine, theophylline and theobromine (Caffeine, Theophylline, Theobromine) – antioxidants, stimulating microcirculation and facilitating the removal of toxins and excess water from the body; accelerate the fat burning process, especially around the thighs, buttocks and abdomen, and thus have also an anti-cellulite effect;
Lemon peel extract (Citrus Medica Limonum Peel Extract) – rich in flavonoids and vitamin C, has antioxidant properties, protects the skin against the harmful effects of free radicals, activates the processes of skin regeneration and renewal, increases skin elasticity and firmness and improves its condition;
Macadamia oil (Macadamia Ternifolia Seed Oil) – smoothes, firms, regenerates, moisturizes and improves the quality of the skin; fights cellulite and is perfect for the care of skin that lacks firmness; it is extremely rich in unsaturated fatty acids, omega 3, 6, 9 fatty acids and vitamins A, B, E
Babassu Oil (Orbignya Oleifera Seed Oil) – moisturizes, softens and improves skin elasticity, strengthens its lipid coat, firms the skin and fights cellulite and stretch marks, a strong antioxidant, helps in the care of problematic skin;
Plum seed oil (Prunus Domestica Seed Oil) – rebuilds the skin's hydro-lipid coat, has a protective and antioxidant effect; does not leave a greasy film on the skin and is quickly absorbed; has a soothing effect and is suitable even for sensitive skin; contains phytosterols that improve skin firmness and have a firming effect;
Sweet Orange Oil (Citrus Aurantium Dulcis Peel Oil) – prevents damage to elastin, which, together with collagen, is responsible for skin firmness and elasticity; has an effective anti-cellulite effect; improves mood and gives a feeling of relaxation;
Jasmine Oil (Jasminum Officinalis Oil) – increases hydration in the epidermis to keep it soft and smooth; improves the quality and condition of the skin;
Japanese and common honeysuckle extracts (Lonicera Caprifolium Flower Extract, Lonicera Japonica Flower Extract) – strong antioxidants, smooth and firm the skin, strengthen its protective barrier and at the same time preserve the cosmetic naturally
Vitamin E (Tocopherol) – a natural antioxidant, vitamin of youth – nourishes, regenerates and moisturizes the skin while additionally preserving the cream.
Apply to the clean skin of the thighs, buttocks, hips, abdomen and other places where you want to get rid of cellulite and massage vigorously until it is absorbed. During the massage, to enhance the effect, you can use a roller, cupping or gua-sha stone (just start with gentle movements so as not to bruise yourself).
You will achieve a great effect if you use me after dry brushing your body.
Use me every day, preferably twice a day (morning and evening) after showering / bathing.
Aqua, Tripelargonin, Macadamia Ternifolia Seed Oil, Orbignya Oleifera Seed Oil, Glycerin, Glyceryl Stearate Citrate, Cetearyl Alcohol, Propanediol, Hydrogenated Vegetable Oil, Hydrogenated Ethylhexyl Olivate, Prunus Amygdalus Dulcis Oil, Limonene, Parfum, Glyceryl Stearate, Maltooligosyl Glucoside, Hydrogenated Starch Hydrolysate, Vanillyl Butyl Ether, Citrus Aurantium Dulcis Peel Oil, Ruscus Aculeatus Root Extract, Schinus Terebinthifolia Seed Extract, Astragalus Membranaceus Extract, Solidago Virgaurea Extract, Citrus Medica Limonum Peel Extract, Jasminum Officinalis Oil, Caffeine, Theophylline, Theobromine, Hydrogenated Olive Oil Unsaponifiables, Hydrolyzed Glycosaminoglycans, Lonicera Caprifolium Flower Extract, Lonicera Japonica Flower Extract, Tocopherol, Helianthus Annuus Seed Oil, Xanthan Gum, Citric Acid, Linalool, Geraniol, Citral, Citronellol