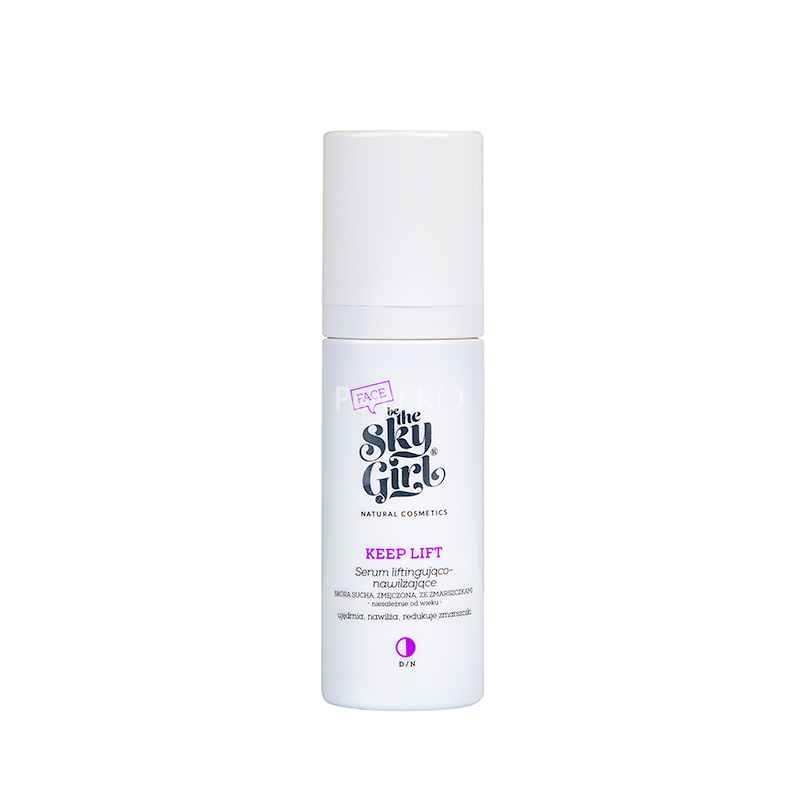 Lifting and moisturizing serum Keep Lift BeTheSkyGirl – sold out
Serum Keep Lift for tired dry skin with signs of age strengthens, deeply moisturizes and reduces the visibility of wrinkles.
Concentrated plant extracts from different parts of the world – from Peruvian spilante to Asian jujube – will strongly rejuvenate and deeply moisturize your skin. Use for evening or day care. Use lifting serum regardless of your age – it will help you whenever your skin is dehydrated, needs an energy injection, needs to be strengthened or extra moisturized.
Active ingredients:
1. Peruvian spilante has used it as a natural painkiller in folk medicine. In cosmetics, it is called "herbal / natural botox" because it has very strong firming and anti-wrinkle properties, it stimulates the production of collagen and elastin and smoothes out small wrinkles.
2. Maral root root extract comes from Siberia, where it is used as a versatile medicine, very intensively strengthens immunity, vital forces and gives energy. It is a very powerful antioxidant with a rejuvenating, strengthening, anti-inflammatory effect.
3. Asian jujuba extract rejuvenates, deeply moisturizes, improves the skin's resistance to external factors, lifts and gently tightens the skin, soothes irritations and inflammation;
4. Lactic acid bacteria create and maintain an active protective barrier on the skin surface – microflora, which prevents the spread of pathogenic microorganisms, exfoliates the skin and reduces fine lines, stimulates cell metabolism, accelerates skin regeneration, stimulates the immune system and healing process, effectively relieves skin inflammation.
Vegan.
Squeeze out a sufficient amount of serum and apply on pre-cleansed and toned skin, then follow with a cream.
Aqua, Propanediol, Sodium Carboxymethyl Starch, Glycerin, Polyglyceryl-4 Caprate, Lactobacillus Ferment, Lactobacillus, Cocos Nucifera Fruit Extract, Acmella Oleracea Extract, Zizyphus Jujuba Seed Extract, Hydrolyzed Glycosaminoglycans, Hyaluronic Acid, Phytoecdysteroids, Xanthan Gum, Lonicera Caprifolium Flower Extract, Lonicera Japonica Flower Extract, Sodium Phytate, Sodium Benzoate, Potassium Sorbate, Citric Acid, Parfum, Citral, Citronellol, Geraniol, Limonene, Linalool