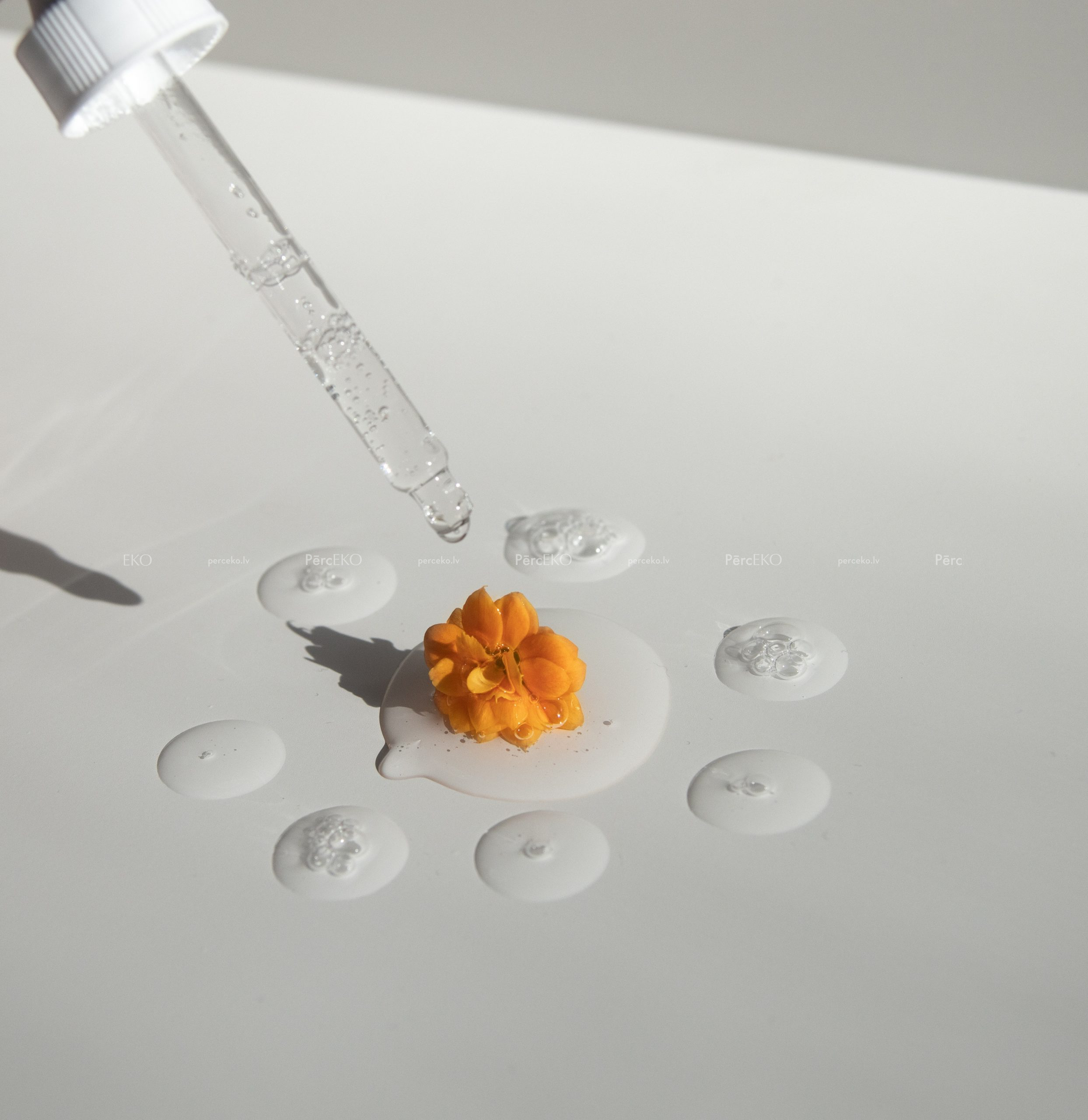 Choosing serums is a slightly different task than with a general skin care routine. When choosing a serum, you should consider specific skin needs, not skin type. So start by identifying the primary needs of your facial skin and then find the right serum to help it look healthy, glowing and young.
Moisturizing
Yes, hydration is the foundation of skin beauty and health. It is a base for any skin type, even oily, even if it doesn't seem like it. Oily skin is often dehydrated, taht is why it starts producing even more sebum. It is best to use serums with hyaluronic acid, which contains several types of it, where one attracts moisture, the other – retains it. If the serum contains polyglutamic acid, ectoin and panthenol, this is an even bigger plus for your skin. Olival Porfessional serum Hiualuron Hydrator 4H contains all these igredients to give a strong dose of moisture to your skin. A serum like this will help soothe your skin if you're doing a strong acid or retinoid treatment.
You can also choose Timeless Hyaluronic Acid Serum with Vitamin C, which in addition to moisturizing will maintain a beautiful skin tone and even relief. Uneven facial tone, pigmentation, anti-aging, strong visibility of blood vessels If such a problem exists, serums also help here, thanks to their concentration.
Hyperpigmentation
It is caused by several factors, such as exposure to the sun without necessary protection, insomnia, diseases, stress, smoking, alcohol consumption, and also genetics. Mostly all these changes can be successfully controlled by the vitamin C. Although most people associate vitamin C with immunity and health, try using it in your facial skin care. You will notice the result very soon! Products with vitamin C derivatives in a concentration of up to 20%, with ferulic acid and vitamin E, which not only stabilizes vitamin C, but additionally penetrates the skin, reduces the visibility of pigmentation, provides an antioxidant effect, makes the skin tone radiant. Vitamine C can be started at any concentration:
10% vitamin C serum with ferulic acid and vitamin E Olival professional serum C
15% vitamin C serum with ferulic acid and vitamin E BasicLab
20% Vitamin C Serum with Ferulic Acid and Vitamin E Light Your SkiTra, the highest effective concentration.
A new substance that successfully fights pigmentation spots is tranexamic acid. Unlike vitamin C, which reduces existing spots, tranexamic acid inhibits (stops) the formation of new spots because it works already in the deep layers of the skin, where it stops the excessive production of melanin. Serum with tranexamic acid is vitamin B3 serum Olival Professional or Whamisa serum with pear extract.
Vitamin C is also good for skin with visible blood vessels. For example, BasicLab 10% vitamin C serum with gingko biloba extract, which strengthens blood vessels.
Skin imperfections, acne, anti-aging, problematic skin
It also has many different causes, but you can deal with most of them on your own. Acne, pimples, impurities and imperfections, as well as pigmentation and the natural aging process – the solution to all this is products with vitamin A. Vitamin A also has various derivatives – retinol, retinaldehyde, retinyl palmitate, etc. – which differs only in the speed of exposure, but not in the result. The secret of the effectiveness of vitamin A lies in the stimulation or acceleration of the regeneration process. In other words, the cells begin to divide faster, but do not "read" the damaged state: imperfections, acne, signs of age, pigmentation. The new cells are like new white paper. Vitamin A products tend to be lighter, such as Olival Professional R2 Serum with Retinyl Palmitate and Resveratrol or SkinTra Liquid Happiness with Retinal, Vitamin E and Squalane. These are a good way to start using vitamin A. There are also stronger ones, such as Olival Porfessional RA serum, which contains a shorter formula of vitamin A and a maximum concentration of 0.1% together with astaxanthin, caramides, bisabol.
Anti-age
Dermatologists call vitamin A one of the best anti-aging products, but it has a rather aggressive effect on the skin and not everyone wants to use it. But there is one great alternative – peptides. It is such an ingredient without side effects, but it helps to produce the much-needed collagen for the skin. Peptides prevent the appearance of signs of aging, delay aging. It can be included in the skin care routine from the age of 20. Peptides come in many different formulas, but the most effective are Matrixyl 3000 and Synthe 6 polypeptides. They are sometimes combined in one concentrated product like Olival Professioanl P serum, or used separately like Timeless Matrixyl 3000 or Timeless Synthe 6 serums.
Polypeptides are often added to serums with other key effects, such as Timeless Vitamin B5 Serum.
Anti-age effect, improver of skin elasticity and firmness is a coenzyme. The coenzyme is a naturally occurring antioxidant compound of 10 quinone molecules, hence the name Q10. Timeless Q10 serum contains coenzyme, Matrixyl 3000 polypeptide and hyaluronic acid – a wonderful composition that gives an incredible but obvious result within a week.
Redness, rosacea, reactive skin
Reactive skin is one that reacts quickly and strongly to a change in any factor: sun, wind, frost, dryness, humidity, sleeplessness, stress, etc. The result of this reaction can be redness, dry skin, irritation, itching. dehidration. In this case, Timeless vitamin B5, a derivative of vitamin B, which soothes the skin, is of great help. Such a serum is very light, oil-free, will absorb easily and will not clog pores.
Another B vitamin derivative – B3 (niacinamide) – will additionally regulate sebum production: Olival Professional B3 serum.
When choosing serums, remember that they can also be combine with each other. Be sure to use vitamin A serum together with hyaluronic acid. Polypeptides can be used with any of the following. Vitamin B serums can be used alternately with vitamin C. This way you will avoid possible side effects and get an excellent result.
But be sure not to use vitamin A together with Vitamin C.