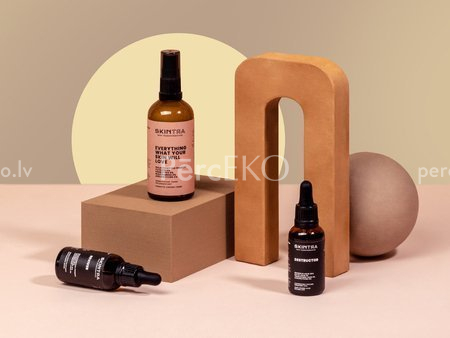 SkinTra – Skin Transformation – the brand aims to improve and harmonize the condition of the skin and express it in the home.
SkinTra is a brand whose developers are very close with in the cosmetics market, chose very interesting and, most importantly, effective ingredients to use. It wasn't the easiest way to go, but SkinTra has created patented products.
Currently, the SkinTra assortment includes 8 facial skin care products (perceko.lv currently has 5). Their features are so broad that everyone, regardless of age, gender, skin type or skin problem, will find at least one. And every tool is effective and efficient. This can be compared to the results of beauty salon procedures.
Each product gives results after the first use, but careful use and regularity will make your skin healthy, strong, look good and maintain a youthful appearance.
SkinTra products are not 100% natural. But in the opinion of the founders, cosmetics with synthetic active ingredients often stand out with the best efficiency. At the same time, they have less allergic potential. Not everyone is convinced, so SkinTra combines natural and synthetic ingredients to achieve very good active properties.